Subscribe in a reader
August 2009, Volume 1, Issue 8
Check Your Fall Calendars
September is
Library Card Sign-Up Month
Banned Books Week
Sept. 26 - Oct. 3
Indian Education Summit
Sept. 27-29
Festival of Books
Oct. 2-4 in Deadwood
SDLA Annual Conference
Oct. 7-9 in Aberdeen
Teen Read Week
Oct. 18-24
---
School Libraries
What every first-year school librarian needs to know
Every first year school librarian needs to know that developing a library program unique to the needs of their students, staff and administration is a long-term process. But it is a fun and rewarding process with many resources and knowledgeable people at the State Library to help along the way.
Whether you are a first year school librarian or returning for your 20th year, here are a few tips to get started and/or use as references:
Get to know your School Library Coordinators. Between the two of them they have 61 years of experience in K-12 school libraries and they make site visits.

If your school is east river (ESA 1, 2, 3, or 4 south) contact Joan Upell at joan.upell@state.sd.us or 295-3152. If your school is west river (ESA 4 north, 5, 6, 7) contact 605-773-3131.

Every school library has two State Library cards. These may be just barcodes and passwords written down on a scrap of paper somewhere, but they are your library cards. One is to use for interlibrary loan of materials and the other is for at home access to the electronic resources provided by the State Library.

If you have questions about your library cards contact Bell Jacobsen at bell.jacobsen@state.sd.us or 800-423-6665.

The State Library provides free access to a variety of electronic resources for all citizens of SD. These include databases such as ProQuest, World Book, Learning Express Library and more. You'll find the portal to these resources at library.sd.gov.

If you have questions about the resources or would like to schedule an inservice for your staff contact the Electronic Services Coordinators.

If your school is east river contact Jane Healy at jane.healy@state.sd.us or 295-3174. If your school is west river contact Julie Erickson at julie.erickson@state.sd.us or 295-1994.

Communicate with your colleagues and get up-to-date news from the State Library on the School Library Listserv. You won't receive hundreds of e-mails because news is collected and condensed and then published monthly in the Continuing Education Opportunities e-mail and the Library Development eNewsletter, The Cornerstone.

Sign up for the listserv and others you may be interested in found in SDSL's list of Discussion Groups

The State Library has a great collection of professional materials on all topics related to education as well as libraries. Two must-reads for the first year school librarian are The First Days of School: How to be an Effective Teacher by Harry K. Wong and No School Library Left Behind: Leadership, School Improvement, and the Media Specialist by Carl A. Harvey. Both titles give practical information and background knowledge which can be used in lessons and projects for all ages.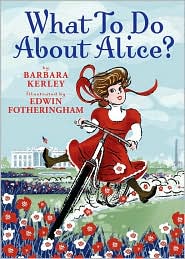 For Review:
What to Do about Alice? How Alice Roosevelt Broke the Rules, Charmed the World, and Drove Her Father Teddy Crazy! By Barbara Kerley, illustrated by Edwin Fotheringham
President Teddy Roosevelt once stated about his oldest child, "I can be president of the United States, or I can control Alice, but I cannot possibly do both." Hand this book to the youngster who thinks reading about history and historical figures is boring.
"I give a good show," Alice Roosevelt Longworth once proclaimed, and indeed she did, as depicted in both the text and the rollicking illustrations of this nonfiction picture book for early grades. Alice's antics, such as entertaining White House visitors with her pet snake or diving fully-clothed into a ship's swimming pool, her father, the President, called "running riot"; but Alice herself said she was "eating up the world." Alice would eventually develop into one of her father's most trusted advisors.
The illustrations are as much fun as the text, particularly the scene showing Alice - ostensibly minding her younger siblings so her stepmother could get some rest - and the siblings sledding down the White House stairs on baking pans. A can't-miss hit as a read aloud for ages 4-8 that perhaps should come with the warning label, "Don't try these stunts at home."
SCHOLASTIC, 2008 (ISBN-13: 9780439922319)
Finalists named in ALAN's Young Adult Fiction awards
The Assembly on Literature for Adolescents of the National Council of Teachers of English has announced the finalists of its inaugural Amelia Elizabeth Walden Book Award for Young Adult Fiction. Established in 2008 to honor the wishes of young adult author Amelia Elizabeth Walden, the award allows for $5,000 to be presented annually to the author of a young adult title selected for demonstrating a positive approach to life, widespread teen appeal and literary merit. This year's winning title will be announced at an open reception and reading at the 2009 ALAN Workshop in Philadelphia.
The finalists for 2009 (in alphabetical order by title) are:
After Tupac and D Foster, by Jacqueline Woodson (Putnam)
Graceling, by Kristin Cashore (Harcourt)
The Graveyard Book, by Neil Gaiman (HarperCollins)
Me, The Missing, and the Dead, by Jenny Valentine (HarperCollins)
My Most Excellent Year: A Novel of Love, Mary Poppins, and Fenway Park, by Steve Kluger (Dial)
---