Subscribe in a reader
Feburary 2009, Volume 1, Issue 2
Learning Express Library
Featured Electronic Resource of the Month
---
School Libraries Count!
2009 Survey Deadline: March 12
---
National Library Week
---
How does your library promote itself?
Send your PR Pointers to: Jane Healy
---
In Review: School Libraries
A picture book series, the 2008 YA National Book Award winner, and another for the profession
Finchler, Judy. Miss Malarkey Leaves No Reader Behind. Thinking of reluctant readers brought this title to mind. Miss Malarkey just doesn't give up until she finds "the greatest book ever made." Elementary students love a series and Miss Malarkey is one they can easily relate to their own lives. Also read Miss Malarkey Doesn't Live in Room 10, Testing Miss Malarkey, You're a Good Sport, Miss Malarkey and more.
New York: Walker & Company, 2006. (0-8027-8084-9)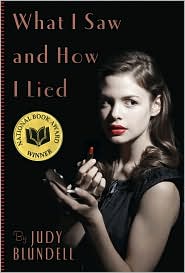 Blundell, Judy. What I Saw and How I Lied. In this 2008 YA National Book Award Winner Evie does what she has to "for the duration." Her stepfather has finally returned home from WWII, it's the fall of 1947, and she finds herself in Florida in the middle of prejudice, lies, a hurricane, and death. She knows she'll never find out what really happened to Peter, but he did love her for that one moment. Didn't he? Great title for discussion or literature circles.
New York: Scholastic Press, 2008. (0-439-90346-7)
Harvey, Carl A. No School Library Left Behind: Leadership, School Improvement, and the Media Specialist. "The bottom line is that successful library media programs impact student achievement, which is the whole goal of school improvement." In brief, everyday language Harvey outlines the essentials for successful school library programs with examples and recommended resources. He covers all of the content areas and includes flexible scheduling and free voluntary reading right along with Class Blogmeister and Wikispaces.
Columbus, OH: Linworth Publishing, 2008. (1-58683-233-6)
Check Out These Resources...
Beyond Penguins and Polar Bears is a free online magazine aimed at helping elementary educators integrate science and literacy instruction through the context of the polar regions.
RADCAB: Your Vehicle for Information Evaluation at www.radcab.com offers a simple system for the evaluation of online information, plus a self-assessment rubric appropriate for grades 6 and up.
New article from the Partnership for 21st Century Schools: Learning Environments Must Break Through the Silos that Separate Learning from the Real World at 21stcenturyskills.org talks about school libraries becoming learning commons. See complete report (pdf download).
Johnson, Doug. It's not the program, but how you use it at The Blue Skunk Blog. In this blog Doug Johnson discusses the guidelines for reading promotion programs.
2009 "School Libraries Count!" survey deadline is March 12
AASL invites librarians from all K-12 schools, both public and private, to participate in this important survey. Please spread the word to other school librarians about this survey so they can also participate by emailing the following web site to other librarians: www.aaslsurvey.org
---