Subscribe in a reader
January 2009, Volume 1, Issue 1
How does your library promote itself?
Send your PR Pointers to: Jane Healy
---
SIRS Discoverer & SIRS Researcher
Featured Electronic Resource of the Month
---
South Dakota Jr. Duck Stamp Contest
Contest Deadline is March 15th! Open to All South Dakota Students (K-12). More information is available at sdjuniorduck.org. Download the 8.5 x 11" poster to post at your library. (PDF file)
Children's & YA Services
Best Children's Books of 2008
Kirkus Reviews and School Library Journal have both released their annual Best Books lists. To see what titles made the lists visit The Best Children's Books of 2008 (pdf) for the Kirkus Reviews and Best Books 2008 for SLJ.
2010 Summer Reading Program
We know you still have to do summer reading for 2009 but we are pleased to announce the official artists for the 2010 children's and teen summer reading program. Henry Cole will be illustrating the children's artwork and Ursula Vernon will be illustrating the teen artwork. To see samples of Henry Cole's artwork go to www.henrycole.net and for Ursula Vernon see www.ursulavernon.com. The slogans for 2010 are "Make a Splash! Read @ your library" and "Make Waves: Read @ your library."
South Dakota is a part of the multi-state Collaborative Summer Library Program (CSLP). For more information on CSLP visit the website www.cslpreads.org or contact Jasmine Rockwell.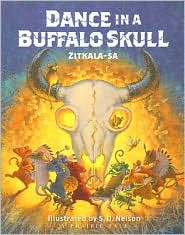 South Dakota book wins award
Dance in a Buffalo Skull told by Zitkala-Ša and illustrated by S. D. Nelson was awarded an Aesop Accolade. The book is a part of the Prairie Tales Series (no. 2) from the South Dakota State Historical Society Press.
More about the awards here: American Folklore Society: Aesop Accolades
Young Naturalists Award Program
The Young Naturalist Awards is an inquiry-based science competition for students in grades 7-12 to promote participation and communication in science. This program, from the American Museum of Natural History and sponsored by the Alcoa Foundation, aims at engaging students in explorations of the natural world. Since 1998 the Young Naturalist Award has been challenging students to conduct independent research following a process of scientific inquiry. Students describe their investigations and findings in essays that are judged by educators and Museum scientists. Two winners from each grade receive cash awards, publication of their essays on the Museum's website, and expense-paid trips to attend an award ceremony at the Museum in New York.
The deadline for entries is March 2, 2009. For more information visit the website of American Museum of Natural History: Young Naturalist Awards.
StoryTubes 2009 -The Library Sponsored Streaming Video Book Review Project Grows
Olivia Collins, Your Chickens: A Guide to Raising and Showing, was one of the 2008 Storytubes Contest winners. Last year's StoryTube's Contest featured young people from across the 48 continental United States. StoryTubes organizers are extremely pleased with the exponential growth and interest in the project. During May of 2008, the StoryTubes web site averaged 1,037 pages per day and 1,301 hits per hour.
New this year - This year's contest features new categories that provide opportunities for kindergartners - through high school seniors, groups and people of all ages*, new contest dates and the addition of TeacherTube as a video host to assist organizations that do not enable access to YouTube.
Tentative Timeline:
Entries Accepted: Jan.8 through Feb. 15, 2009
Partner Library Final Judging: Feb. 16 through Feb. 20
Parent Permission and Movie Files Secured: Feb. 23 through Feb. 27
Announcement of Judges' Choice Awards/Uploading of Movie Files to non-YouTube
Site: March 2-6
Online Voting:

Individual Entries, Grades K-4 March 9-12
Individual Entries, Grades 5-8 March 16-19
Individual Entries, Grades 9 up March 23-26
Group Entries, All Ages March 30-April 2
Visit StoryTubes.info to watch videos from last year. Click here to watch the short promo video featuring last year's contest. *We welcome adult entrants especially as they create enthusiasm in others. The prizes will be awarded to school age young people. Adults may share in those prizes if they are in a group with a school age young person.
Questions:
Categories, rules, partner questions - Faith Brautigam, Director of Youth Services, Gail Borden Public Library, 847-429-5970
Technology - Betsy O'Connell, Director of Information Technology, Gail Borden Public Library, 847-429-4689
Sponsorship, marketing, video editing - draleigh@gailborden.info, Director of Marketing, Development & Communications, Gail Borden Public Library, (847) 429-5981
---