Subscribe in a reader
October 2009, Volume 1, Issue 10
Check your Fall Calendars!
YARP Voting Begins
Oct. 18
Teen Read Week
Oct. 18-24
National Friends of Libraries Week
Oct. 18-24
National Novel Writing Month
November
National Gaming Day @ your library
Nov. 14
American Education Week
Nov. 15-21
Letters for Literature
Dec. 12 deadline
---
Cornerstone Survey
Share your opinions of the Cornerstone Newsletter in this quick survey!
---
Featured e-Resource of the Month
WorldCat Expands!
---
Trends and More
Where do I find movie review and purchasing resources?
Do you have a favorite source you would like to share? Send an e-mail to Brenda Hemmelman at the State Library: Brenda.Hemmelman@state.sd.us.
More resources in the news
Assess your tech: Why nonprofits need technology assessments
techsoup.org/learningcenter/techplan/page12082.cfm
Basic tips for evaluating new technologies for your nonprofit
blog.techsoup.org/node/993
Did you know 4.0 – another update to Shift Happens
www.youtube.com/watch?v=6ILQrUrEWe8
EPA info on recycling electronic products
www.epa.gov/epawaste/conserve/materials/ecycling
14 ways K-12 librarians can teach social media
www.techlearning.com/editorblogs/23558
Free census materials
2010.census.gov/2010census/promotional_materials/ 009579.html
Info on the current Google Books issue and related links
librarianinblack.net/librarianinblack/2009/09/ googlewars.html
Options for streaming your own video
forums.techsoup.org/cs/forums/t/29149.aspx
Performance of or showing film in the classroom
www.wo.ala.org/districtdispatch/?p=3630
Promoting reference services
www.lrs.org/documents/fastfacts/ 279_Reference_60_Second_Results.pdf (PDF)
Top 15 reasons people join volunteer boards
blog.patricia-martin.com/2009/09/ top-15-reasons-people-join-volunteer.html
Top 10 things library administrators should know about technology
techessence.info/topten
Ways to make computers more senior citizen friendly
www.makeuseof.com/tag/ 7-steps-to-make-computers-accessible-for-the-elderly/
Your library does not end here
librarianinblack.net/librarianinblack/2009/09/12656.html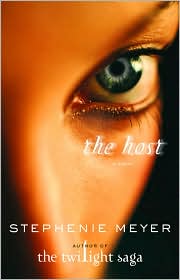 What is Library Development reading?
The Host by Stephanie Meyer
It's against all the policies to co-exist in the same body, but Wanderer and Melanie are not the typical alien and host pair. Melanie's deep love for her little brother and her boyfriend leads Wanderer to the hiding place of a small group of humans who have survived her species' invasion of Earth. Through suspicions, violent misunderstandings, and total mistrust the humans and Wanderer become partners with a better vision for the future of the universe. Meyer again creates a world where families, relationships and loyalties are what matters regardless of time or place.
Other titles now being read by Library Development staff include:
Born to Rock by Gordon Korman
Envy (a Luxe book) by Anna Godberson
Catching Fire by Suzanne Collins
A Marvelous Hundred Square Miles: Black Hills Tourism, 1880-1941 by Suzanne Barta Julin
Olive Kitteridge by Elizabeth Strout
The Perfect Liar by Brenda Novak
Web Literacy for Educators by Alan November
Naked in Death by J. D. Robb
Ladies with Options by Cynthia Hartwick
…and take a look at Best Book Blogs of 2009
Be sure to visit Jasmine's Shelfari page.
---