Subscribe in a reader
September 2009, Volume 1, Issue 9
Check Your Fall Calendars
Banned Books Week
Sept. 26 - Oct. 3
Indian Education Summit
Sept. 27-29
Festival of Books
Oct. 2-4 in Deadwood
SDLA Annual Conference
Oct. 7-9 in Aberdeen
Teen Read Week
Oct. 18-24
YARP Voting Begins
Oct. 18
---
Trends & More
Sharing is caring with social bookmarking
By Stacia McGourty
Sharing is caring - we've heard it from teachers, parents and even Barney. Like most librarians, what I most often like to share is information. If you want to know something, I'll do my best to track it down for you. Some of my best information sources come from the Internet. That ever growing, ever changing, morass of information allows me to find information on topics ranging from, "President Obama's Healthcare Plan" to "Who shot J.R.?" (It was his sister-in-law, Kristin.)
I keep a list of favorite sites bookmarked on my computer, just so I don't have to search for the same site again and again. This works out well, when I'm using my own computer. The problem comes when I'm trying to use someone else's computer. Suddenly I can't remember the name of the site, or how I found it in the first place.
Enter social bookmarking. There are sites that allow you to save and organize your favorites, not only on your computer, but on their Web site. They provide instant access, no matter whose computer you happen to be using. Sharing your favorite links on these sites not only allows you access to your favorites anywhere you might be, it also allows you to organize them, and make them available to others.
Tagging links with keywords will make each link more searchable for others using the sites. Of course, one of the drawbacks to tagging is the lack of a controlled vocabulary. If you are searching for sites using the term "shower," you could find yourself looking at sites ranging from party planning to home remodeling. Tagging also doesn't assume relationships between terms. If you're searching for sites about South Dakota, Mount Rushmore may not be included simply because the user didn't tag the link with both Mount Rushmore and South Dakota.
Most social bookmarking sites follow the "wisdom of crowds." Social bookmarking sites keep track of how many people save the same links. The theory is that the more a site is bookmarked, the more credible it will be. Credibility can also be determined by who is saving the link. Many organizations use social bookmarking sites to make information available to their members.
There are a wide variety of social bookmarking sites available, each with its own unique audience. Some focus on scholarly articles, some focus on news items and still others don't appear to have any focus - they're simply for general use. The following is a small list of what's available.
More resources in the news
A downloadable toolkit on disaster planning (not a how-to!) and recovery from Tech Soup
www.techsoup.org/toolkits/disasterplan/index.cfm
Free PBS Webinars for Educators
www.mmischools.com/Articles/ReadArticle.aspx? ArticleID=14753
Booklist offers three free online newsletters
www.booklistonline.com/default.aspx?page=general_info&id=64
Current Research Related to Young Adult Services, 2006-2009
The annotated bibliography can be found at: www.ala.org/ala/mgrps/divs/yalsa/research/ 09researchbibliograp.pdf (PDF)
Great puzzles, graphic organizers and basic info worksheets
www.worksheetworks.com/
Free Conference calls for trainings or meetings
freeconferencecall.com/FreeConferenceCall.com
What is Library Development reading?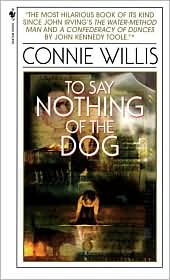 To Say Nothing of the Dog by Connie Willis is science fiction and mystery all wrapped up in a Victorian comedy of manners. It shouldn't work as well as it does, but it's hilarious! To Say Nothing of the Dog follows Ned Henry, an Oxford University researcher. The year is 2057 and time travel is used for historical research. Enter Lady Schrapnell. She's turned the University upside down trying to build an exact replica of Coventry Cathedral - as it looked in the 19th century. Poor Ned has been sent back and forth in time, until he is absolutely jet lagged. The infirmary insists on two weeks of rest and the only way he's going to get it is by going to 1888. Unfortunately, 1888 won't be as restful as he thinks.
Other titles now being read by Library Development staff include:
Brain Rules by John Medina
Chasing Spring: an American Journey Through a Changing Season by Bruce Stutz
Hate List by Jennifer Brown
On the Rez by Ian Frazier
Peder Victorious by Ole Rolvaag
Reading Matters by Catherine S. Ross
Twisted Tree by Kent Meyers
---