Subscribe in a reader
April 2010
Volume 2, Issue 4
Check Your Calendars!!
One Book South Dakota
throughout 2010
School Library Month
April 1-30, 2010
SD School Library Survey
April 1- May 31, 2010
National Library Week
April 11-17, 2010
El día de los niños/El día de los libros (Children's Day/Book Day)
April 30, 2010
Children's Book Week
May 10-16, 2010
---
Featured e-Resources of the Month
Learning Express helps improve lives
Continuing Education Alert
Highlighting April Online Learning Opportunities
---
Trends and More
Story Corps makes oral history more accessible
Oral history is defined as the systematic collection of living people's testimony about their own experiences. Often we think of oral history projects as something taken on by scientists, writers, or other trained interviewers. That's not necessarily the case. One project working to make oral history more accessible to the public is Story Corps.
Story Corps is a non-profit organization that was founded in 2003 by David Isay. Much like the Federal Writer's Project, interviews cover a wide variety of topics, documenting the experience of a nation. People participating in Story Corps talk about what is important to them, not necessarily what would be considered historically significant.
The biggest difference between Story Corps and any other oral history project is the nature of the interview. Scholastic oral history project participants don't normally have an established relationship. The heart of Story Corps is the conversation between two people who are important to each other. Friends and family members talk to each other about personally significant events. Story Corps not only documents the story, but preserves the relationship between interviewer and interviewee.
There are a lot of different ways to get involved in Story Corps. Large organizations can host semi-permanent Story Booths. At each booth, Story Corps staff is on hand to staff and manage the booth and facilitate the interviews. Right now there are Story Booths located in New York City, San Francisco and Atlanta. After each interview, the participants receive a CD recording of their experience. A second copy is housed at the American Folklife Center at the Library of Congress.
If those locations are geographically inconvenient, there are other options. Smaller organizations often host the Door to Door program. With Door to Door, two Story Corps staff will bring portable recording equipment to your location. Door to Door is able to accommodate up to six 40 minute interviews per day. Again each participant receives a copy of the interview, as well as archiving at the American Folklife Center. Fees for this program operate on a sliding scale- between $3500 and $5000 per day for non-profit agencies.
Story Corps also rents Story Kits to interested individuals. Each Story Kit includes:
Professional digital recorder
Two 40 minute memory cards
Professional-quality microphone
Studio-grade headphones
StoryKit User's Guide
The kit is available for seven days at $200 per rental period. Each kit also requires a refundable security deposit of $500. Participants using the Story Kits will receive a copy of their interview, as well as archiving at the American Folklife Center.
The good news is that you don't have to use Story Corps's equipment to begin your own project. Story Corps has a Do It Yourself Guide, as well as a guide for K-12 educators on their Web site. If you would like more information about Story Corps, or if you would simply like to listen to a sampling of interviews, you can find their Web site at http://storycorps.org/.
If you would like to see other examples of oral history projects, check out the following:
More resources in the news
100 video sites every librarian should bookmark from Webmaster 9.
Common Core Standards are ready for review and comments.
Poll your class, book discussion group, staff, audience, etc. and it's free. www.polleverywhere.com.
What is Library Development reading?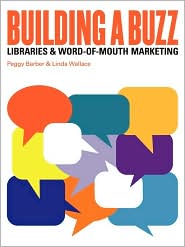 Building a Buzz: Libraries and Word of Mouth Marketing
Reviewed by Julie Erickson
Promoting your library and the services it provides your community can be an overwhelming project. Building a Buzz: Libraries and Word of Mouth Marketing by Peggy Barber and Linda Wallace breaks the planning process down into manageable steps. This book provides lots of examples, interviews, and plans along with an easy to read, energetic tone that may actually inspire you to implement a word of mouth marketing plan for your library.
---