Subscribe in a reader
Dec/ January 2010, Volume 2, Issue 1
Check Your Calendars!!
SDLA Legislative Day
Jan. 14, 2010
ALA MidWinter
Jan. 15-19, 2010
2010 National African American Read-In
February, 2010
Read Across America Day
March 2, 2010
Teen Tech Week
March 7-13, 2010
PLA National Conference
March 23-27, 2010
---
Featured e-Resources of the Month
AncestryLibrary and HeritageQuest answer family trivia questions
---
Trends and More!
The digital branch - a new and essential branch on the library tree
How many branches does your library have? Does your community have easy access in every neighborhood? What about in your digital neighborhood?
Like a physical building, your Web presence can also be considered a library branch. Like all branches, your digital presence needs three things to be considered a true digital branch.
A location
Dedicated staff
Unique collections
Community
Location is important, whether it is a Web address or a street address. Without a stable location, patrons have a very hard time accessing services. There will be very little use if members aren't able to consistently access and use your site. The needs of a digital location are very similar to those of the physical. It needs to be safe, in good repair and easily navigated.
Staff is needed to create and maintain your digital site. Among others, you will need
A Digital Manager - as Harry Truman said, "The buck stops here." The digital manager makes the hard choices and answers the hard questions. They are in charge of any long-range planning, act as the executive editor and integrate new technology when needed.
The Web Team - including a Web designer/developer, a Webmaster, and public relations. These are the people that translate your ideas into reality, and then make sure everyone else knows about it too.
Content Creator - you can have a great idea, and the best site in the world, but none of that means anything without content. Once you have the site you need to fill it and make sure it remains updated. Your content creators are in charge of uploading photos and videos. They create blog entries, respond to comments, manage any social networks and create ideas for new content.
Library branches within the same system have collections unique to their location, and digital branches should be no different. A digital branch may include the library's catalog, but it can offer so much more. Many libraries offer podcasts and vodcasts on their sites. They may be offering book talks, interviews with community leaders, or recordings of other library speakers. Collections can also include digitized copies of photos, language learning opportunities, as well as downloadable e-books and audiobooks.
The final component of your digital branch is community. Like all branches, its personality comes from the people that populate it. Physical and digital branches need to provide places for social connections. This could mean providing discussion forums, allowing people to comment on blog postings, or having library patrons create content for the digital branch. The goal is to create an attachment between the community and the library.
David Lee King is the acknowledged expert in digital branches. He is the Digital Branch and Services Manager at Topeka and Shawnee County Public Library. The following resources were authored and presented by him:
SDSL Research Staff recommends science and health resources
The mission of The Why Files, based at the University of Wisconsin-Madison, is to explore the science, math and technology behind the news of the day, and to present those topics in a clear, accessible and accurate manner.
Science Daily provides breaking science news and articles from the world's leading universities and research organizations.
NASA's Astronomy Picture of the Day: Discover the cosmos. Each day a different image or photograph of our fascinating universe is featured by this NASA Web site, along with a brief explanation written by a professional astronomer.
heathfinder.gov: Reliable health information from the Federal government is found here.
PDRhealth.com: Locate drug information and health resources for consumers from the publishers of the Physicians Desk Reference.
CDC: H1N1 Flu. The home page for H1N1 flu resources from the Centers for Disease Control and Prevention.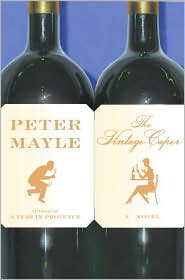 What is Library Development reading?
Sara Wylie, Research Associate at the South Dakota State Library, is reading The Vintage Caper by Peter Mayle. The Vintage Caper is a light mystery centered on the theft of a hot-shot entertainment lawyer's expensive collection of Bordeaux wine worth three million dollars. His insurance company calls on the expertise of Sam Levitt, a lawyer and wine connoisseur with a slightly shady criminal past, to try to locate the missing wine. His investigation leads him to Paris, Bordeaux, and Marseille with the help of Sophie Costas, a fellow French wine and food enthusiast. Peter Mayle is well known for his non-fiction books, A Year in Provence and Toujours Provence, and several novels also based in France. This book will have wine and French food lovers longing to stroll through the streets of Paris or Marseille to find that special bistro and, of course, a great bottle of wine.
Other titles now being read by Library Development staff include:
Beautiful Boy: A Father's Journey Through His Son's Addiction by David Sheff.
Bird Girl by Velma Wallis
Floodgates by Mary Anna Evans
Hunted by P.C. Cast & Kristin Cast
Kindred in Death by J.D. Robb
Murder At Longbourn by Tracy Kiely
Necessary as Blood by Deborah Crombie.
Pilgrims by Garrison Keillor
Shelf Discovery: The Teen Classics We Never Stopped Reading by Lizzie Skurnick
Silent Spirit by Margaret Coel
Waiting for Coyote's Call: an Eco-Memoir From the Missouri River Bluff by Jerry Wilson
Your Dog is in the Bar by Celia Rensch Day
---