Subscribe in a reader
March 2010
Volume 2, Issue 3
Check Your Calendars!!
One Book South Dakota
throughout 2010
SD Public Library Survey
February 1- March 31, 2010
Prairie Bud & Pasque voting deadline
March 15, 2010
PLA National Conference
March 23-27, 2010
YARP voting deadline
March 31, 2010
School Library Month
April 1-30, 2010
SD School Library Survey
April 1- May 31, 2010
National Library Week
April 11-17, 2010
National Library Workers Day
April 13, 2010
---
Featured e-Resources of the Month
SIRS Discoverer, SIRS Issues Researcher, and ProQuest offer full-text online articles on a wide range of topics for research projects
Continuing Education Alert
Highlighting March Online Learning Opportunities
---
Trends & More
CONTENTdm opens the way to digital collections
by Stacia McGourty, Digital Initiatives Librarian, SDSL
CONTENTdm is a digital collection management software system. It allows for the upload, description, and access to digital collections. This year the OCLC has rolled the CONTENTdm Quickstart subscription into the State Library's First Search database subscription. That means that every library that uses State Library resources has access to a CONTENTdm subscription.
With the Quickstart version you have access to the CONTENTdm software and up to 10GB of storage for up to 3000 items. Users will also be able to take advantage of the World Cat Digital Collection Gateway to make their digital collections available through WorldCat.org.
CONTENTdm can be used with text, image, audio and video files. It doesn't matter if those files were born digital, as in the case of a word document, or if they were digitized at a later date, like a diary.
If you do decide to take advantage of your CONTENTdm QS instance, we recommend using archival standards when digitizing materials. Archival Standards set by the Bibliographical Center for Research include the following:
Original photographs and graphic materials (5X7 or larger) should be scanned at 300 dpi without corrections
Original photographs and graphic materials (smaller than 5X7) should be scanned at 600 dpi
Text documents should be scanned at 600 dpi without corrections
Slides and negatives should be scanned at 2400 dpi without corrections
Digital photographs should be saved at their original dpi
Black and white photographs, and text documents should be scanned in grayscale
Monochromatic photographs (sepia), and documents with color lettering and/or color backgrounds should be scanned in color
If you would like more information about digitization standards, we recommend the following resources:
BCR's CDP Digital Imaging Best Practices Version 2.0 www.bcr.org (PDF)
U.S. National Archives and Records Administration's Technical Guidelines for Digitizing Archival Materials for Electronic Access: Creation of Production Master Files- Raster Images www.archives.gov
CDP Digital Audio Working Group Digital Audio Best Practices Version 2.1 www.bcr.org (PDF)
CONTENTdm will also guide you in making your digital collection accessible. CONTENTdm's metadata is based on Dublin Core- 15 data elements that will describe and give context to your digital items. More information about metadata can be found at the Dublin Core Metadata Initiative dublincore.org.
The OCLC is offering free CONTENTdm orientations. You can find their training schedule at www.oclc.org.
The State Library will be hosting a free digitization webinar on March 17. For more information, please go to library.sd.gov.
CONTENTdm has the potential to impact education, outreach, public relations and more. It's a way to make more of your materials available to a wider audience. You will have the potential to showcase what is special about your library and your community in new and creative ways.
If you would like more information about CONTENTdm, or digitization in general, please contact Stacia McGourty, Digital Initiatives Librarian, Stacia.Mcgourty@state.sd.us, (605)773-6391.
If you would like to see what other organizations have done with CONTENTdm, please follow the links below: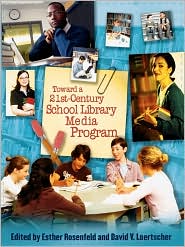 Book Review: Toward a 21st-Century School Library Media Program
Reviewed by Lee Crary
What is the place of the school library in a 21st-century school? What type of program should the 21st-century school library be offering? In attempting to supply answers to these and other questions about the role of school libraries in today's schools, Toward a 21st-Century School Library Media Program addresses the issue of how schools need to change in order to teach 21st-century skills to 21st-century learners. Edited by Esther Rosenfeld and David V. Loertscher, the content of the book divides articles authored by respected school library voices into seven sections: collaboration, curriculum design and assessment, technology integration, 21st-century skills, literacy and reading, partnerships, and issues and management.
Gail Bush presents thoughts on library management issues in "Safe Haven: Libraries as Safe Havens for Teens." Michael Cart, widely recognized for his expertise with young adult readers, states, "The trouble, of course, is that most young people do not have a clue that books can offer such healthy reassurance, such life-affirming comfort. And that is where the teacher-librarian comes in: the teacher-librarian who can lead the young person to the right book," in his article "Teacher-Librarian as Literacy Leader."
Other included authors are recognized school library leaders Doug Johnson, writing on management issues, and Joyce Valenza who examines students' Internet and database searching skills. These articles were all previously published in issues of the periodicals Teacher Librarian and VOYA, many within the past five years. By gathering the selections into one volume, editors Rosenfeld and Loertscher have provided easy access to a rich collection of library wisdom in one place. Check it out from the State Library.
---