Subscribe in a reader
May 2010
Volume 2, Issue 5
---
---
Check Your Calendars!!
One Book South Dakota
throughout 2010
Choose Privacy Week
May 2-8, 2010
Preservation Week
May 9-15, 2010
Children's Book Week
May 10-16, 2010
SD School Library Survey
Deadline May 31, 2010
ALA Annual Conference
June 24-29, 2010
---
---
Trends and More
Planning for computer upgrades, replacements, and additions
Your computer signup sheets are always full, with a waiting list. Did you know that scene is typical across the country? The recently released report "Opportunity for All: How the American Public Benefits from Internet Access at U.S. Libraries" (gatesfoundation.org) says that 77 million people used library computers and library Internet access in the past year. That popularity results in extreme computer wear and tear.
How do you plan for computer upgrades, replacements, and additions? South Dakota librarians at a recent gathering offered some ideas. For a quick fix, a librarian suggested checking with businesses and organizations in the community. One community's bank replaced its computers on a regular schedule. The bank donated their gently-used (by library standards) computers to the library. Another library received a year-long subscription to an online resource from a group that used the library's meeting place.
TechSoup, a resource for technology for non-profits, offers details on replacing and upgrading technology here: techsoupforlibraries.org. TechSoup also offers low cost refurbished hardware for qualifying libraries. WebJunction provides resources on upgrading and replacing technology here: webjunction.org/hardware.
If funding is the problem, looking for grant opportunities may be an option. The State Library Research Department can help search grant information in the Foundation Center. The "Grants for Libraries" (librarygrants.blogspot.com) blog lists grants for libraries. Other funding options include working with your Library Friends group or other community partners.
More resources in the news
Library Service to Older Adults: new ALA programming toolkit
Search Stories Video Creator: create a message from your library
State of Americas Libraries: 2010 American Library Association Report
Tales from the Tech Sandbox: archived TechSoup webinar with practical and affordable ideas for small libraries
What is Library Development reading?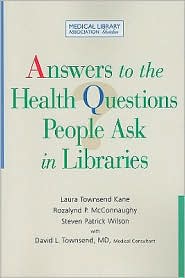 Answers to the Health Questions People Ask in Libraries
Reviewed by Stacia McGourty
What kinds of health questions are your patrons asking? Do they want to know how to maintain a healthy weight? Do they need to know the warning signs of dementia? Are they wondering if they should be screened for diabetes?
All of those questions and more can be answered in Answers to the Health Questions People Ask in Libraries. This book, published by the Medical Library Association, is divided into six chapters: Major Health Concerns, Family Health, Nutrition and Fitness, Complementary and Alternative Medicine, Drug Information, and Odds and Ends. Each chapter contains common questions, plain language answers, and a listing of credible resources for further research. In addition to providing a "one stop shop" for common health questions, the book also provides a glossary of health experts. This glossary gives a short summary of the expertise of each profession, and the training needed to become qualified. There is an index as well as a comprehensive list of each source consulted. In addition to the electronic resources, the book also contains a list of print resources.
The authors, Laura Townsend Kane, Rozalynd P. McConnaughy, and Steven Patrick Wilson, began the writing process by surveying libraries of all types; asking which health questions were most commonly asked in libraries. More than 250 libraries responded, the data was analyzed, and the results were published in this book. All medical information was reviewed by Dr. David L. Townsend, an internal physician currently practicing in North Carolina.
Answers to the Health Questions People Ask in Libraries is available for check out at the State Library.
---