Subscribe in a reader
April 2012, Volume 4, Issue 4
---
---
Check Your Calendars!!
Month of the Military Child
April
School Library Month
April
National Library Week
April 8-14
Preservation Week
April 22-28
Money Smart Week
April 22-28
World Book Night
April 23
Dia de los Ninos, Dia de los Libros
April 30
Children's Book Week
May 7-13
---
Featured e-Resources of the Month
Support Common Core literacy with electronic resources, part 2
---
Library Development
School and public librarians: the SDSL Research Department is here for you!
Here it comes, the History Day project, science fair project, or term paper. The students try to pick an obscure subject to beat out their classmates, and you've already exhausted the resources you have on hand and you are fresh out of search terms for online resources.
Who are you going to call for help? The State Library Research Department, of course! The Research Department is your go-to source for:
Author information
Book series/what comes next
Correct citations, authors, and titles for books and articles
Lists of resources for subject requests
Reference collection for help with those school projects
We can make copies of needed information and email to you
We'll assist you in searching the databases to find appropriate articles
Help with search terminology and keywords
Help in determining if a website is an authoritative source for information
Video and book suggestions
Difficult or odd requests
South Dakota history
Native American resources
State government information
Historical state law
Grant resources
We love a good challenge, so don't hesitate to call us at 1-800-423-6665 or email library@state.sd.us. Check out our list of websites we have compiled for various subjects on our SDSL Delicious page at www.delicious.com.
Netiquette for listserv users
Here are some simple guidelines when using a listserv to ensure a more enjoyable online experience:
Ten tips for using a listserv
When responding to a listserv, keep your messages brief.
Respond directly to the sender, rather than to the entire list. After receiving multiple responses, consider compiling a short message to post to the entire list.
Include a portion or a summary of the message you are responding to, so others are clear.
Stick to the topics intended for discussion on the listserv. All SDSL listservs should be library related.
Avoid all upper case when writing. This is thought of as shouting.
Be cautious when using humor in your messages.
Avoid sending meaningless messages with no content, such as "I agree!" Instead, respond with personal notes directly to the person.
Identify yourself. This could be your first and last name, email and your institution.
Avoid sharing your grudges or dirty laundry. If you have a conflict with an individual, settle it by private e-mail messages (or better yet, in person).
Be positive about people's queries posted to the listserv. Many people are new to the listserv process. Send them a private message and "gently" make suggestions if you think it is warranted.
Remember, we're here to learn, share, and grow from each other.
Adapted from iatul.org.
From Cover to Cover: Evaluating and Reviewing Children's Books and other resources in the news
Reviewed by Jane Healy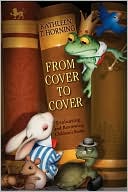 From Cover to Cover: Evaluating and Reviewing Children's Books, Kathleen T. Horning, NY: Collins, 2010, rev. ed.
If you read, write, purchase or review children's literature, this book is for you. Making the distinction between evaluating (critically assessing) and reviewing (expressing written criticism), author Horning guides readers toward recognizing the very best children's books from the many that are published. This revised edition has updated titles as examples and added fiction subgenres that did not exist in the original 1997 edition.
The book begins with an overview of the children's book publishing industry and related terms, including the parts of a book and categories of children's books. It describes books of information, traditional literature, poetry, picture books, easy readers and fiction. Horning gives the history of each category and lists ground-breaking titles and authors. In each category, Horning tells readers what questions to ask about the book and the author, using engaging examples from excellent books to demonstrate her points.
Chapter eight focuses on book reviews—what a review is, where to find reputable reviews of children's books and details on how to write reviews. According to Horning, the responsible reviewer strives for "an informed and reasoned opinion, clearly articulated so that others can learn about books they haven't read" (p. 5). She knows what she's talking about. Horning is the director of the Cooperative Children's Book Center of the School of Education at the University of Wisconsin—Madison, past president of the Association for Library Service to Children and the U.S. Board on Books for Young People and chair for many children's literature award committees.
An index and source notes and bibliography make this book even more useful.
This book and others about children's literature are available from the State Library.
Other resources in the news:

---