Kate's Corner
Fall is here, finally, after a hot summer that to me and my tender East Coast skin felt like it would never end… Although we had a great summer in Pierre, I'm ready for cool days, cozy sweaters, apple cider, and crunching through fallen leaves in my neighborhood. Autumn is most definitely my favorite season.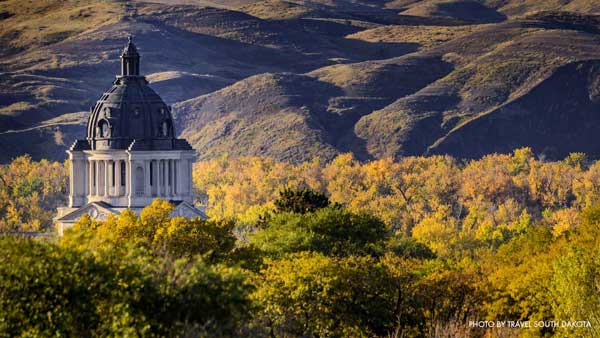 Photo by Travel South Dakota: Pierre's Capitol building's dome peeks above yellowing trees with the rolling Fort Pierre Grasslands in background.
The staff of the Braille and Talking Book Library has been busily at work throughout early fall to keep the service humming along. Josh Easter and I have been hunting for a new recording studio site in the northern part of the state, and we are excited to announce that the South Dakota School for the Blind has agreed to let us house a studio at its school in Aberdeen! Details to follow, but we hope this will allow us to open up new volunteer opportunities and catch up on the backlog of recording that the pandemic has caused.
Mike Smith is back in the duplication station after a lengthy absence and is working closely with our temp Dylan Frye to get back into the swing of things. The reader advisors have been busy too: Lynda has been attending the American Printing House for the Blind annual conference, Lynette has been updating our DVD holdings, and Marcia has been on the road visiting some of our western libraries and facility partners. We've even had a busy bee in Barb, one of the state library employees who has boxed up and recycled more than 5,000 outdated cartridges this fall, making room for new materials to serve you better. As you can see, we're an absolute hive of activity here!
We had a wonderful first programming event in September with our spelling bee. Gertie from Canton walked away with the victory, but Wanda from Vermillion came in a close second. It was a fierce battle, and everyone enjoyed themselves immensely. In October, we did a poetry writing workshop and some of the poems are included here for your enjoyment. Don't forget to try some of our other programs. Keep reading to see what exciting programs are to come!
This month, I've decided to dedicate my reading time to the genre of epistolary novels—that is, books that are written in the form of letters and documents. I love these books, because they give me the opportunity to read a page or two and then go pick up my kiddo from cross country practice or make dinner and I'm always at a good stopping place. If you're one of the many who called in and requested "Last Days of Summer" (DB048541 ) by Steve Kluger after the last newsletter, you'll have already read one such novel. May I recommend to you this month
"The Guernsey Literary and Potato Peel Pie Society" (DB067526 ) by Mary Anne Shaffer and Annie Barrows,
"Attachments" (DB091740 ) by Rainbow Rowell, or
"Dear Committee Members" (DB079709 ) by Julie Schumacher?
All three are wonderful examples of the genre and all are quite different. I had the good fortune to meet Annie Barrows and have her autograph my copy of the Guernsey book, which is one of my favorites. My daughter was an infant at the time and Annie gave her a lovely kiss and snuggle, which Leah will never remember and I'll never forget. Authors are such lovely people! Your reader advisors are standing by to help you order these books, or other books of this type.
So stay tuned, as there's lots going on and we look forward to hearing from you as we keep working to serve you better. Call me any time at 1-800-423-6665 , option 1, then option 5. Or call your reader advisors and they're happy to answer your questions as well. Happy fall, y'all!
---