Kate's Corner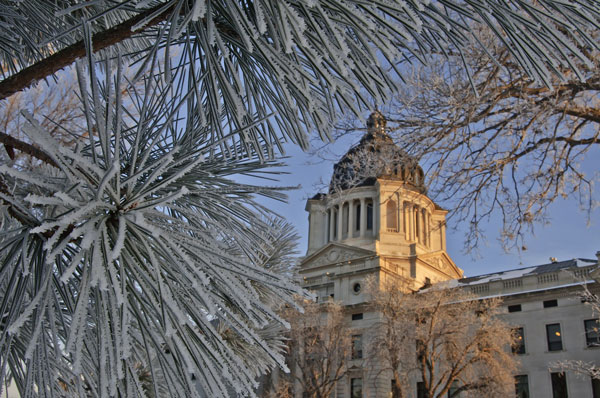 Photo by Travel South Dakota: Pierre's Capitol building in the background with frosted pine branches framing the image.
Winter is here and with it the end of the year. It's so hard to believe we've made it through 2021. I'm sure for many that this year, like last, seems to have been slow at best, but for me, it has absolutely flown by, and I really can't believe that we're back to bundling up and wrapping Christmas gifts. The prairie wind here is teaching me a lesson in humility, as I've never felt such a biting cold in all my days! My new favorite pastime is to hunker down with a cat or two under the blankets and read for a couple of hours. I expect I'll pass much of January and February similarly!
I thought it would be appropriate to give a little wrap up of all the things our library has done this year. It's been a year of big changes locally and nationally! The National Library Service hired a new director, Jason Broughton, who began work in September in Washington DC.
Here in South Dakota, the state librarian, Daria Bossman decided to hire a dedicated manager to run the Braille and Talking Book Library, which resulted in them hiring me! While the hiring process was happening, our duplication and equipment guru, Mike Smith, fell ill and was out of the office for six months. We were fortunate enough to hire a temp in Dylan Frye, whose tenure was over at the end of December, after steadily duplicating materials and keeping things humming for six months on his own, and then helping Mike transition back to work thereafter. Daria retired as State Librarian and we are in the midst of the search process for a new one!
Because the Covid restrictions relaxed a lot over the summer and fall, Marcia Kaup was able to hit the road and visited multiple libraries, nursing homes, and other institutions to start refreshing existing depositories and building new ones. This means that in many communities across the state, interested patrons can go to their local libraries and check out a Talking Book Machine, which allows them to "try it before they buy it" so to speak (of course, our service remains free of charge to all eligible patrons!).
Lynda Lowin has been busy at work with our school kids and with Josh Easter ran a very successful summer reading program with crafts, reading charts, and field trips. We had more than 30 children and teens sign up for this year's program. Lynda brought a lot of creativity to the program and we got great feedback on it.
Speaking of Josh, he has been back out there as well, visiting our recording studios around the state, updating equipment, getting volunteers back in the studio, and working to put together a proposal for a new recording studio in Aberdeen. He took over Mike's equipment duties during Mike's absence and is now training state employee Barb Nickolas to work in that area for us.
Lynette Thum has also kept very busy working on all the government reporting and statistics that we are required to report to the State of South Dakota, the National Library Service, and the Institute of Museum and Library Services. As a result of her work, we've been able to determine that we have served 2,174 patrons this year across South Dakota, and we've checked out a total of 176,417 items.
We're happy to report that Mike Smith came back to work in the early fall and has been busily duplicating all the books and magazines you love to read. He's getting stronger every day and we enjoy his Friday Fun Facts and their long-awaited return.
For my part, I've mainly been working behind the scenes, cleaning up thousands of catalog records to make your book requests easier than ever to find (apparently there are about 14 different ways to spell Stephen King, for example). I've worked hard to present our new Braille and Talking Book Social Club and provide interesting programming to folks who have participated over the past four months-we've done trivia, had a spelling bee, discussed books, listened to great stories, and gotten to know each other around the state. I am also working on the new five-year plan for the state library and Braille and Talking Books in conjunction with other members of the leadership team. Finally, I've worked hard to strengthen and renew partnerships with local organizations like the SD Toy Lending Library (you'll read more about them inside!), the National Federation of the Blind, the South Dakota Association of the Blind, the South Dakota School for the Blind and Visually Impaired, the special education department here at the Department of Education, and the state's Services to the Blind and Visually Impaired.
With all this going on, do I still have time to read? Yes, I do! However, I'm going to start a new column each month with my book picks, so keep an ear out and listen ahead for my book picks for this month. My genre is dystopian fiction, and I'd love to hear your suggestions, either for books or book genres, to feature in future columns!
Thank you for reading so much of my update this month, it's a long one! Keep warm and resolve to read more books! We appreciate your support of our program. It's our pleasure to serve you all.
---