Black Hills Sheroes
---
Black Hills Sheroes is a South Dakota Touring Artists program Joyce Jefferson Creates Stories in Song has been performing for the last five years at High Plains Western Heritage Center for Road Scholars. Black Hills Sheroes, tells of pioneer African American women who opened Dakota Territory during and after the Gold Rush Days. This 40-minute program tells the stories of three pioneers of the early days of the Black Hills in Dakota Territory. In period attire, Jefferson sings and tells the stories of Sarah Campbell, the first documented non-Native woman to come to the Black Hills with the Custer Expedition of 1874, Lucretia Marchbanks who came to run boarding houses for the many prospectors of the 1876 Gold Rush, and Mary Kercherval who joined her sons to homestead on Centennial Prairie in Spearfish. These women and their families were integral to the forming of the Black Hills.
Additionally, through the South Dakota Humanities Council Jefferson portrays individual Chautauqua personas, such as homesteader Betty Blair, Sarah Campbell, and Lucretia Marchbanks to tell a more in-depth shero story. Learn more about South Dakota History through Jefferson's portrayals.
PRICING FOR LIBRARIES - 2023
Live Program - $450, with block discounts available
Joyce Jefferson is part of the South Dakota Humanities Council : Speakers Bureau. SDHC works with schools, museums, libraries, and other cultural, educational, and community-based organizations across the state to deliver programs to South Dakotans.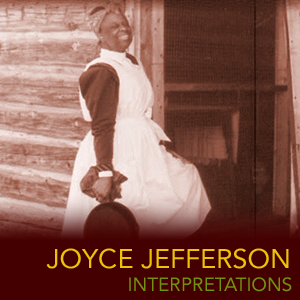 CONTACT INFO
Joyce Jefferson
Creates Stories in Song
---
Library Technology Coordinator