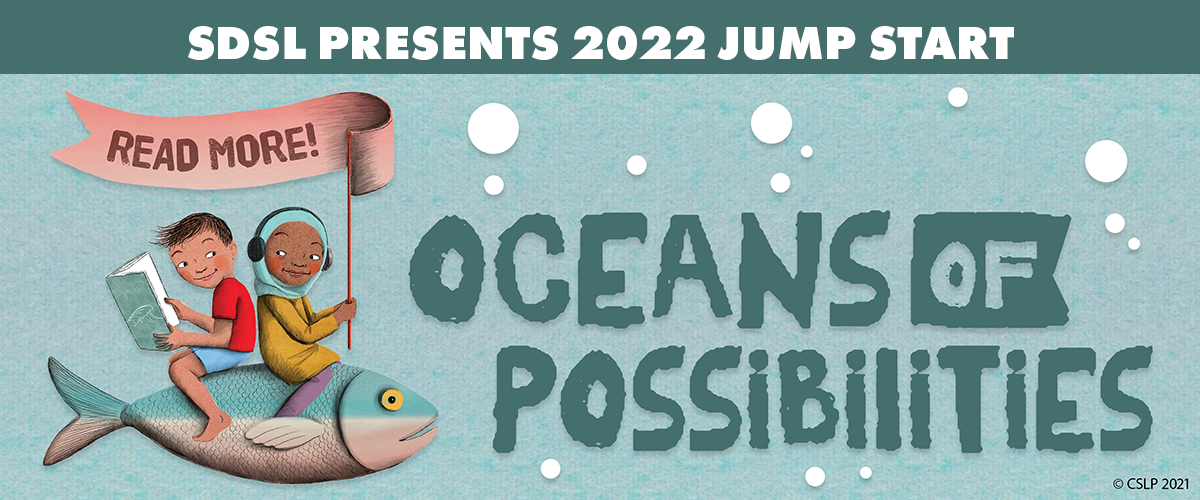 Jump Start 2022!
-- Oceans of Possibility --
Jump Start workshops are hosted in person and virtually, and scheduled for various dates and times to fit every librarians needs.
Each person at your library planning to attend should register separately.
CSLP Voucher: Every library is eligible for a $50 CSLP voucher code upon registration. Only one voucher per library will be distributed. (The voucher is in place of the Jump Start kits)
CSLP Voucher expires February 15, 2022 and can be used towards all merchandise in the catalog.
Attendees will be granted access to a playlist of videos featuring our hosts demonstrating activities. These videos should be watched prior to the in-person or virtual event.
This workshop is eligible for four contact hours. This includes one hour for watching the playlist and the three hour workshop.
Registration was open December 1, 2021 through January 31, 2022, but has now been extended through February 7, 2022.
Workshops were hosted in the following locations:
February 23 - Watertown
Sarah Overvagg & Deb Schroeder, Watertown Regional Library
Wednesday: 1 p.m. CT
Alternate Date: March 2, 2022
March 4 - Piedmont
Megan Ferguson, Piedmont Valley Public Library
Friday: 10 a.m. MT
Alternate Date: March 11, 2022
March 7 - Madison
Lisa Martin, Madison Public Library
Monday: Noon, CT
Alternate Date: March 14, 2022
March 9 - Beresford
Annie Crist & Sasha Huether, Beresford Public Library
Wednesday: 9 a.m. CT
Alternate Date: March 16, 2022
March 14 - Redfield
Sarah Jones-Lutter & Amanda Evans, Redfield Carnegie Library
The workshop offered in-person and virtually. This registration is to attend virtually and a zoom link will be sent to the email provided two weeks before the workshop date.
Monday: 9 a.m. CT
Alternate Date: March 21, 2022
March 17 - Chamberlain
Melissa Hutmacher, Cozard Memorial Library
Thursday: 9:30 a.m. CT
Alternate Date: March 24, 2022
March 19 - Virtual
Kallie Kronberg, Bison Public Library
Raven Christman, Lemmon Public Library
Saturday: 9 a.m. MT/10 a.m. CT
A Zoom link for the three hour virtual meeting will be sent to the email you provide in registration
March 23 - Custer
Thea Teasley & Sarah Myers, Custer County Library
Wednesday: 10 a.m. MT, hour lunch
Alternate Date: March 30, 2022