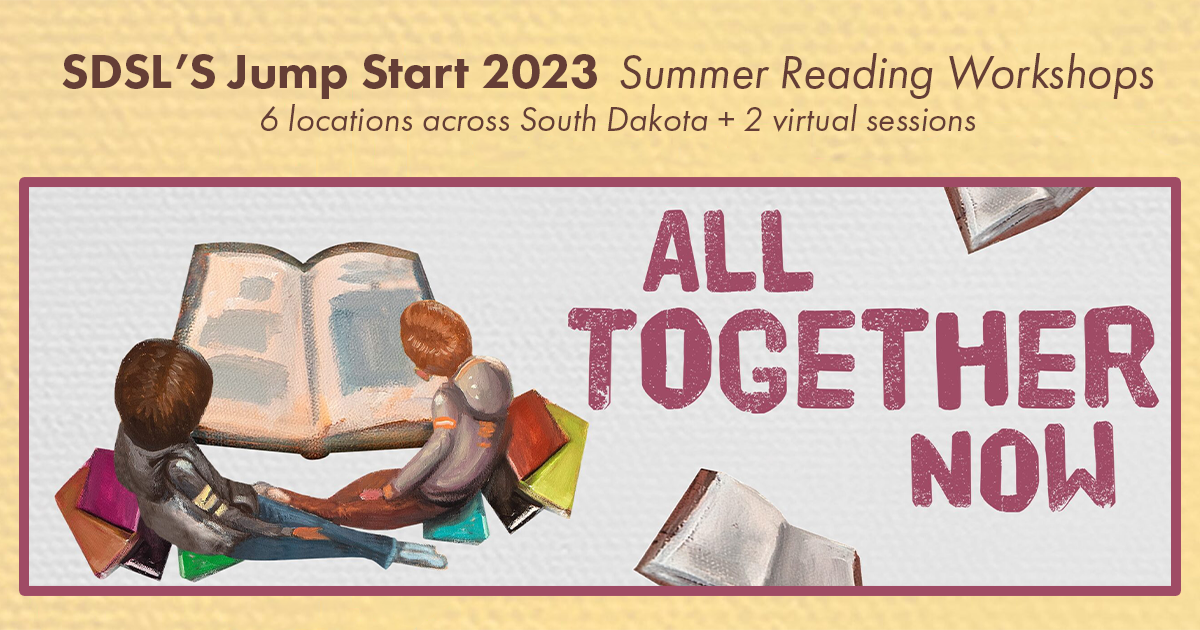 Jump Start 2022!
-- All Together Now --
Jump Start workshops are hosted in person and virtually, and scheduled for various dates and times to fit every librarian's needs.
Each person at your library planning to attend should register separately.
Attendees will be granted access to a playlist of videos featuring our hosts demonstrating activities. These videos should be watched prior to the in-person or virtual event.
Total CE hours = 5

Workshops will be 4 hours
Participants watch videos ahead of time for 1 hour of CE
Every library is eligible for a $50 CSLP voucher code upon registration. Only one voucher per library will be distributed. The SDSL is providing up to 80 vouchers, on a first come, first served basis to libraries that register and attend Jump start sessions.
Registration opens December 1, 2022 through January 31, 2023.
Register Today
Workshops are scheduled in the following locations:
Vermillion
Prairie Hanson, Amanda Raiche, and Daniel Burniston, Director
Edith B. Siegrist Public Library
Workshop capacity: 20
Alternate Date: March 3
Mobridge
Staci Wilson and Karla Bieber, Director
A H Brown Public Library
Workshop capacity: 24
Alternate Date: March 9
Chamberlain
Melissa Hutmacher, Director
Cozard Memorial Library
Workshop capacity: 16
Alternate Date: March 17
Redfield
Sarah Jones-Lutter and Amanda Evans
Redfield Carnegie Library
Workshop capacity: 15
Alternate Date: March 20
Flandreau
Erica Rorvik, Director
Moody County Resource Center
Workshop capacity: 28
Alternate Date: March 28
Custer
Thea Teasley, Sarah Myers, and Jessica Phelps, Director
Custer County Library
Workshop capacity: 20
Alternate Date: March 29