This performer database was created by the South Dakota State Library as a service to public libraries and other organizations that want to hire quality performers for their children's programs.
Inclusion in this listing does not constitute an endorsement of any individual or group listed. Not all performers work well under all circumstances and with every age group. The SDSL strongly advises all libraries and organizations to carefully check references before hiring.
Performers - you can update your listing, or submit your act for consideration for this database with the Performer Listing Request Form.
Stay tuned for the 3rd Annual Performance Showcase, coming to three locations in South Dakota early November!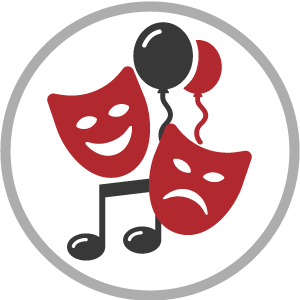 ---
Alphabetical Order

ACT
DESCRIPTION
CONTACT

A

Annelise the Magnificent

Sister and brother team of magicians do live-animal magic, comedy, large stage illusions, and close up slight-of-hand magic! Annelise the Magnificent with Master Benjamin entertain kids, families and adults with both classic and original illusions.

Nationwide Travel; For all Ages

Animals, Comedy, Magic

annelisethemagnificent.com
1 (605) 786-5116

B

Backstage with a Rodeo Clown

Duane Reichert transforms himself from street clothes to the unique, outlandish costume, makeup and mannerisms of a professional rodeo clown. With the use of short comedy skits and animals, he shares the dangers, the comic relief, and the suspense surrounding his life.

Nationwide Travel; For all Ages

Comedy, Storytelling

duanereichert.com
Duane Reichert
1-605-985-5575

Phil Baker

Phil Baker takes children on a musical adventure that nurtures the imagination and creativity. Conga, limbo, freeze, swim and do the hug songs are featured.

Nationwide Travel; For all Ages

Music

artscouncil.sd.gov
Phil Baker
1-605-361-8501

Bramble Park Zoo: Outreach Programs

What a great way to add hands-on, inquiry-based activities to your curriculum! The Zoo Educator can adapt programs to inform students about the natural history, physical characteristics and adaptations of these chosen animals.

Travel: within 100 miles of Watertown, SD; For ages Preschool to School-Age children.

Animals

brambleparkzoo.com
1-605-882-6269

Butterfly Puppet Theater

Butterfly is "people and puppet" musical entertainment. Leonard Running writes songs and stories to fit with Sue Hey's puppet and stage designs.

Statewide Travel; For all Ages

Music, Puppetry, Storytelling, Theater

butterflypuppets.com
Leonard Running
1-605-348-5345

C

Anthony Clark: Singing Storyteller

The Singing Storyteller, Anthony Clark, combines classic teaching tales with lively original songs and kid-friendly comedy to create fun, unique programs for schools, libraries and festivals.

Nationwide Travel; For all Ages

Comedy, Music

thesingingstoryteller.com
1-573-449-1822

Clown-A-Round Inc.

Kids magic and puppet show including a 40 minute comedy magic show. Booking options may include face painting and air brush tattoos.

Statewide Travel; For all Ages including Preschool and Elementary.

Balloons, Clowns, Comedy, Magic, Puppetry, Workshops

qcclownaround.com
Laura Anderson
1-815-421-3279

Rosie Cutrer

Rosie's programs are a lively blend of stories and music (autoharp, banjo and ukulele). Some of her programs include: multicultural tales, spooky and spastic tales, "Happy Feet" tales, and pioneer tales which are appropriate for school age children.

Eastern South Dakota Travel; For all Ages

Animals, Comedy, Magic

rosiecutrer.com
Rosie Cutrer
1-785-640-8845

D

Dakota Players

Dakota Players makes it possible to share theatre with young people in communities of all sizes throughout our region. Kids get the opportunity to explore their creativity through games, songs, dance and theatre with programs tailored to the needs of each communities. This dynamic program takes high quality theatre education programs to over 1600 kids a year throughout the region.

Statewide Travel; For all Ages; Venues include Schools and Libraries. Funding opportunities are available.

Music, Theater, Workshops

blackhillsplayhouse.com
Debra Workman,
Director of Education
1-605-255-4910

Dallas Chief Eagle

Pre - performance hoop-dance workshop (200 hoops provided), and Grandpa Rock story telling exercises have become favorites to participants who will join Dallas in the pubic performance.

Statewide Travel; For all Ages

Dance, Historical, Native American, Music, Storytelling, Workshops

artscouncil.sd.gov
1-605-455-1805 or
1-605-407-0677 (Cell)

Do Re Let's Play!

Get ready to dance, sing and clap your hands to "Do Re Let's Play". Do Re Let's Play mixes the sounds of keyboard, acoustic guitar, electric bass and three part vocals and even some saxophone to create a sound that will cause and the young at heart to get up and grove.

Travels within three hours of Sioux Falls; For ages 0-10

Music, Storytelling

reverbnation.com/doreletsplay
General Manager: Kara Weber
1-605-336-2465

Discovery Mime and Movement Theatre

Discovery Mime Theatre's performances and workshops create fantastical worlds that tickle the funny bone and delight the imagination. Brian Begley and Mary Inman's original pantomime vignettes are filled with magical illusions, juggling, puppetry and dance.

Statewide Travel; For all Ages

Dance, Juggling, Magic, Puppetry, Ventriloquism, Theater

discoverymovementtheatre.com
Brian Begley and Mary Inman
1-605-624-6718

Dragons are too Seldom

Dragons Are Too Seldom Puppets has been entertaining kids of all ages for over 40 years. Markie Scholz spreads joy and laughter every where she goes. Her shows and workshops are interactive as well as fun and educational. There are many shows available. Each year the Dragons create a special show for the Summer Reading Program. Check our the website for more detail.

Nationwide Travel; For all Ages

Puppetry, Storytelling, Theater, Ventriloquism, Workshops

dragonsaretooseldom.com
Markie Scholz
1-605-642-4805

Duke Otherwise

Witty Wordplay, Superb Music, Tap Dancing! With his guitar, tap shoes, and distinct baritone, Duke Otherwise performs a hilarious, charming and interactive musical program for all ages. He writes original songs bursting with clever wordplay and fun ideas relatable to both kids and adults.

Nationwide Travel; For Ages Preschool and Elementary

Dance, Music, Storytelling

dukeotherwise.com
Noah Riemer
1-262-689-3001

G

Jim Gill

An author and musician, Jim Gill's most recent book, A Soup Opera, received an award from the American Library Association in 2010. Jim Gill is unique in his ability to combine his artistry with advocacy for early literacy development. He shares both at each inspiring and joyous event.

Nationwide Travel; For all Ages

Music, Storytelling, Workshops

jimgill.com
1-708-763-9864

Great Plains ZooMobile

All ages will enjoy getting a close-up, hands-on opportunity to get nose-to-nose with a variety of creatures as they explore the wonders of the animal kingdom.

Nationwide Travel; For all Ages

Animals

greatzoo.org
Education Department,
Great Plains Zoo and Delbridge Museum
1-605-367-8313 Ext. 233

H

Hanson Shows

Juggling, Unicycling, Magic, Puppets, Storytelling and loads of fun stuff! Get ready for a unique library show that will dazzle and amaze your library kids with award winning juggling and unicycling and a healthy dose of humor that will have everyone laughing.

Nationwide Travel; For all Ages

Balloons, Comedy, Juggling, Magic, Storytelling, Theater, Workshops

hansonshows.com
1-515-851-1614

Jason Huneke

Juggling stage show, perfect for summer reading events. Interactive program is about 35-40 minutes in length. The show is choreographed with music, features audience volunteers, and many different forms of juggling, unicycling, and manipulation that showcase Jason's skill level and entertaining ability.

Nationwide Travel; For all Ages

Comedy, Juggling, Theater

JasonHuneke.com
Jason Huneke
1-507-398-2599

I

Imagine Your Workshop: Bringing Storytelling to Your Summer Library Program

CSLP has partnered with the National Storytelling Network to identify qualified, experienced storytellers who can deliver high quality professional development for library staff.

Nationwide Travel; For all Ages

Storytelling

cslpreads.org


J

Jay & Leslie

Jay & Leslie feature "Flights of Fancy" launches into 2019 summer reading with juggling, stories, orbits, and more bits to tickle your funny bone. The fun will be flying, and Goldilocks will be searching for a planet that is "just right." All ages enjoy Jay & Leslie, and they will tailor their program to any audience.

Nationwide Travel; For all Ages; Venues include Schools and Libraries

Comedy, Juggling, Storytelling, Theater, Workshops

leslieandjay.com
Jay Cady
1-913-660-3162

Jim "Two Crows" Wallen

National award winner Jim Two Crows Wallen is a freelance oral historian who combines his love of history with a good story keeping you spellbound. Stories and programs/workshops include: "Buckskins, Furs & Calico", "Did Granddad Really Say That? True Tales and Other Lies" and more!

Nationwide Travel; For all Ages

Comedy, Historical, Music, Native American, Storytelling

elsenpeterproductions.com
Deborah Wallen
1-816-795-7119

Jo Ho Storyteller

Delight all ages with collections of folktales, fairytales, holiday stories, and curriculum enhancement stories. Jo Ho spins tales year round at preschools, elementary and middle schools, libraries, museums, and festivals.

Nationwide Travel; For all Ages

Storytelling, Theater, Workshops

johostoryteller.com
1-913-461-4504

K

Kevin and the Infinite Possibilities

Through song and storytelling, Kevin inspires kids to live within their creativity and evolve into a more self-aware generation.

Nationwide Travel; For all Ages

Music

kfpossibilities.com
1-605-605-605

L

David Lloyd Magic

Performs magic, puppetry and storytelling in each program.

Statewide/Regional Travel; For Preschool and Elementary; Venues include schools, libraries, indoors.

Comedy, Magic, Puppetry, Storytelling

Dave Tenneboe
1-605-310-9146

M

Magician Rick Eugene

Comedy Magic With lot's of audience participation. Show is guaranteed or your money back.

Nationwide Travel; For all Ages

Balloons, Comedy, Magic, Workshops

magicianrickeugene.com
Rick Brammer
1-309-945-3414

Jonathan May

A full time entertainer specializing in magic and fun, for audiences of all ages and sizes! From balloon animals to family magic, May performs over 300 shows a year.

Nationwide Travel; For all Ages

Balloons, Comedy, Magic

jmaymagic.com
Jonathan May
1-515-991-3695

Slim McNaught, Cowboy Poet

In 2004 Slim McNaught started performing live on stage and since then has entertained at many local gatherings. He is currently Cowboy Poet "Lariat" for CBSI Radio in Spearfish, South Dakota. In 2015 Slim started a program called, "COWBOY POETRY/TEXAS TRAIL HERDS: Origin, History & Development", which is primarily utilized by elementary educational instructors for grades five through eight, but available for all grades and also adult programs.

Statewide Travel; For all Ages

Historical, Storytelling

cowboypoetry.com
Slim McNaught
1-605- 754-6103

Adam Miller: Folksinger, Storyteller and Autoharp Virtuoso

Adam Miller's award-winning, multi-cultural, sing-along "Singing Through History" library programs help youngsters develop active listening skills - emphasizing the importance of history as a story well told - and foster a lifelong love of literature, reading, and listening to stories.

Nationwide Travel; For all Ages; Venues include Libraries and Schools

Historical, Music, Storytelling, Workshops

folksinging.org
1-650-804-2049

N

The Noiseguy

Charlie "The Noiseguy" Williams is a vocal sound impressionist, comedian, illustrator and author who shows how to use onomatopoeia to enhance reading, writing and storytelling.

Imagine the story of the Tortoise and the Hare being told with the sound of cars racing past or Jack chopping down a beanstalk using a chainsaw! Hear the sounds of Lewis and Clark paddling upstream, and practice the ABC's of Onomatopoeia!

Nationwide Travel; For all Ages

Comedy, Storytelling, Workshops

noiseguy.com
Charlie Williams
1-425-606-7589

O

Oneida Storyteller

If you've ever wondered where stars come from or how turtle cracked his shell, Oneida storyteller, Debra Morningstar has a native legend just for you!! She engages her audiences in a lively and interactive format using an Indian Storybasket, hand drums, flute, and rattles. In culminating her presentation, she invites children, students, and families to join her in a Native American Friendship Dance.

Nationwide Travel; For all Ages

Historical, Music, Native American, Storytelling

debramorningstar.com
Debra Morningstar
1-920-915-4154

P

Jean L.S. Patrick, Author

Dressed in a replica of a 1931 baseball uniform, children's author Jean Patrick dramatizes the true story of The Girl Who Struck Out Babe Ruth. Upon request, she also shows the process of researching and writing a book. Jean's lively, interactive presentation emphasizes teamwork, encouragement, and perseverance.

Statewide Travel; For all Ages

Historical, Storytelling, Workshops

jeanpatrick.com
Jean L.S. Patrick
1-605-770-7345

Penny and Pals

Penny and Pals writes, records and performs original, award-winning music. Their concerts literally sweep kids off their feet and feature playful costumed characters and tons of kids-participation.

Statewide/Regional Travel; For Ages 2-12

Music

Penny Andrist
1-701-293-8004

Jim Perry Magic

Magic is always popular, but how about magic with a little something more. We have just the thing! We take one part humor, one part audience participation, and one part magic to create laughs, wonders and illusions customized for your patrons!

Nationwide Travel; For all Ages

Comedy, Magic

jimperrymagic.com
James Perry
1-845-701-5041

Pint Size Polkas

Mike Schneider's Pint Size Polkas program rolls magic, comedy, and education into one fluid, high-energy, live musical performance package guaranteed to bring a smile to the faces of young and old alike! Audience participation opportunities abound, age-appropriate humor and magic tricks, and special theme specific trivia questions geared towards young readers.

Nationwide Travel; For all Ages

Comedy, Dance, Magic, Music

pintsizepolkas.com
Mike Schneider
1-414-431-4683

Pockets Full of Fun

Lisa writes a new Library show based on the Collaborative Summer Library Program theme. Each show features ventriloquism, puppetry, magic and lots of FUN audience participation opportunities.

Statewide/Regional Travel; For all Ages

Magic, Music, Puppetry, Ventriloquist

pocketsfulloffun.com
Lisa Laird
1-712-737-7760

Q

Jeff Quinn, Magician

Jeff Quinn does a FANTASTIC Summer Reading Program magic show that always fits with the current SRP theme. Shows are usually 40 minutes long and include lots of audience participation, family-friendly humor and (of course) amazing magic.

Nationwide Travel; For all Ages

Comedy, Magic

bestlibrarymagician.com
Jeff Quinn
1-402-339-6726

R

Jammin' Randy

Award winning Children's Singer-Songwriter Jammin' Randy's library shows are the kind of high-energy fun and audience participation naturally found in a live performance all in the incredible learning environment of the public library. Randy performs with his guitar, ukulele, and fun background tracks that will have the audience dancing, singing, and moving to the music.

Statewide/Regional Travel; For all Ages

Music

jamminrandy.com
Randy Sauer
1-785-623-9378

Real Beal's One Man Band

Jeff sings, plays bass, rhythmm and lead guitar all the while simultaneously stomping out the beat on his custom designed drum set. Nancy's top notch vocals makes this duo an undeniable crowd pleaser. They have drawn crowds of all ages at fairs and festivals throughout the Midwest featuring Country and Rock & Roll hits from the 1950s to the present.

Statewide Travel; For all Ages

Music

therealbeals.com
Jeff Beal
1-641-295-3416

T.J. Regul

Programs filled with the highest energy and most audience participation in your area. A family friendly magic show that will have the children and adults at your library literally rolling on the floor with laughter. This show has more smiles, more laughter, more energy and more results than you have ever had before!

Nationwide Travel; For all Ages

Balloons, Comedy, Magic

quadcitymagician.com
T. J. Regul
1-630-523-4810

Rock 'N' Rope Warrior

An Interactive, Visually entertaining Jump Rope Show! Perfect for school assemblies, fairs, festivals, half-time shows, libraries, camps and more! The Rope Warrior -professional athlete/entertainer/author - is a lean, mean, jumping machine who executes stunts that most of us can't even imagine-using a jump rope, and is the current Guinness World Record holder for the most "Rump Jumps" in one minute: 56

Nationwide Travel; For all Ages

Music, Workshops

rocknropewarrior.com
David Fisher
1-312-944-5063

Rockin' Red Music

Rockin' Red performs a high-energy show filled with upbeat, original children's music. Kids participate in the show through fun dance moves and actions, percussion instruments, dancing scarves and more! Kids of all ages will be entertained by her catchy songs and infectious energy. Fun for children of all ages!

Statewide/Regional Travel; For Ages in Preschool and Elementary

Music

rockinredmusic.com
Leslie Dolby
1-605-201-3828

The Rockin Rob Show

The Rockin Rob Show is a completely interactive and educational musical kids show and rock concert, geared for children ages 2-10 and their families. Promotes fun and education, through the benefits of music and movement

Statewide Travel; For Preschool and Elementary ages

Comedy, Music, Puppetry, Ventroquilism, Storytelling, Workshops

therockinrobshow.com
1-913-963-1513

S

Sherlock Holmes: an Elementary Investigation

Costumed skits, slide shows, interactive discussions and hands-on activities are used to introduce young adults to Scottish writer Arthur Conan Doyle and his greatest creation, the crime-solving duo of Sherlock Holmes and Dr. Watson. Presenter Jeff Falkingham is a Browns Valley, MN native whose published works of historical fiction bring Holmes to Minnesota and the Dakotas in the late 1800s.

Eastern South Dakota Travel; for Grades 5-12

Animals, Comedy, Magic

cccaper.com
Jeff Falkingham
1-952-465-1662

T

T.Wilson King Productions

In the program of An Ostrich Named Emu, King uses sing-a-longs, simple activities and illustrations in the program. Children of all ages are engaged, amused, and entertained while they learn valuable life lessons about diversity and acceptance.

Statewide Travel; For Elementary ages

Music, Storytelling

1-605-659-6243

Max Tell

A professional writer, storyteller, and educator, Max Tell offers a variety of performances catering to young and older children.

Nationwide Travel; For all Ages

Music, Storytelling

maxtell.ca
Robert Stelmach
1-604-538-9466

Traveling Lantern Theatre

For the 2019 SRP Space and Showtime themes, we present "My Mother The Astronaut" To the moon and beyond! Aquarius' mom is an astronaut and today is "Take your Child to Work Day". Aquarius can't wait to go to NASA and find out what it's like to be in space!

Nationwide Travel; For all Ages

Comedy, Storytelling, Theater

travelinglantern.com
1-800-936-4723

Mr. Twister

Mr. Twister is a full time children's entertainment specialist and a regional favorite. His shows are packed full of fancy twisted balloons, magic tricks, stories, audience participation and BIG FUN!

Statewide Travel; For all Ages

Balloons, Comedy

mrtwister.org
Bob Anderson
1-605-310-0365

W

Dennis Warner

An energetic blend of music and humor in a special concert just for kids (age 4-12) and others who like to have fun! Dennis's show is fast-paced, high energy and full of audience participation.

Nationwide Travel; For classes preschool through 5th grade

Music

warnersongs.com
Main Trail Productions
P.O. Box 365
Clearwater, MN 55320
1-320-558-6940

Z

Z*stonish

South Dakota's Favorite Comedy Hypnotist and Magician! Enter the untapped mystery of the brain with mind-blowing mental illusions. Weaving comedy, hypnosis, and showmanship - prepare to not only be astonished but zstonished!

Nationwide Travel; For teens and adults

Comedy, Hypnosis, Magic

zstonish.com
Zac Tenneboe
1-507-591-7733

Zoo Man

The Zoo Man has traveled throughout the United States and Canada performing live animal programs for libraries, afterschool programs, and schools.

Statewide Travel; For all Ages

Animals

zooman-ia.com
Brent Mielke
1-507-766-2523
---
Performers:
Does your listing here need to be updated?
Would you like to be included on this list? If you perform in public libraries and in South Dakota, we'd love to know more about you!
Performer Listing Request Form
Performers, use this form to submit your contact information. This form can also be used to update your previously listed information as well. Please fill it out as completely as possible and your submission will be reviewed by our content committee before inclusion on the website.
Children and Youth Services Coordinator