State Library Electronic Resource Spotlight: CultureGrams

A world of content at differentiated reading levels
Each CultureGrams Edition offers a unique set of content, targeting common research needs and matched to different reading abilities.
Utilizing CultureGrams can give great insight into what life looks like for people in neighboring countries.
CultureGrams® is the leading primary source reference for concise, reliable, and up-to-date cultural information on the countries of the world. It goes beyond mere facts and figures to deliver an insider's perspective on daily life and culture, including the history, customs, and lifestyles of the world's people.
Resources for Culture Grams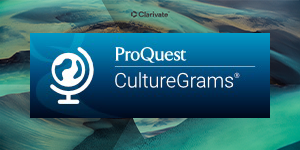 Culture Grams®
Statistical and cultural information about the United States and global countries.
Access Culture Grams®
---
Contact:
School Library Coordinator
Electronic Resources Coordinator
Providing these resources does not constitute endorsement of content found herein.
Databases are provided through a combination of funding from the South Dakota State Library and the Institute of Museum and Library Services.
See also Handouts and Downloads.