PLASTIC BAG PLANT POT & GARDENING
PLASTIC BAG PLANT POT & GARDENING
---
MATERIALS
plastic bags (to make 'plarn')
sewing thread
large, sturdy needles
air plants
Turn plastic bags into treasure! To reduce the risk of them ending up in our precious waterways, gather patrons to repurpose their plastic grocery bags into yarn for plant pots. This is a simple beginner crochet project. If you don't crochet, consider enlisting the help of a volunteer instructor, or see the alternate craft options for coasters, reusable bags, and braided flower pots. This is also good for a passive and/or virtual program with take-and-make bags. Suggested runtime: 60—90 min.
INSTRUCTIONS
Megan talks about plarn and reaching out to volunteers to help crochet or braid the plarn into chains.
Presentation from local expert(s) — Master Gardeners, local County Extension Agents, Xeriscaping experts, or community/staff members with gardening experience
Plastic Bag Flower Pot kits or other similar activity. See: Making Plarn from Plastic Bags - the Easy Way
Time for questions and answers
Have resources available for further reading
Can be easily adapted for outdoors if space is available
Could run with a plant exchange as well
Adapt for program series if interest is high
ALTERNATIVE: VIRTUAL
Find local experts who are willing to be filmed and book them for a Zoom program or film them presenting at the library
Film librarian or expert doing the selected project — The Plastic Bag Flower Pot is a bit difficult, so, an alternative could be the Plastic Bag Plant Hanger by the Naples Botanical Garden.
Optional: Provide take and make kits for project
Can be made into a series lasting the whole summer if enough local experts are interested
BENEFITS OF PROGRAM
Given the current difficult times and dryness of the current conditions, adult patrons may be interested in learning more about gardening, especially low water gardening. This program gives patrons an opportunity to learn from local experts before jumping in themselves. Could also be expanded to a full summer long series, which would solve adult programming needs for the whole summer.
---
BOOK LIST
Creating the Prairie Xeriscape by Sara Williams
Low Water Veggie Gardening by Alina Niemi
Successful Gardening on the Northern Prairie by Eric Bergeson
RESOURCES
CSLP manual: Teens/Adults, page 52-54
Jump Start Trainer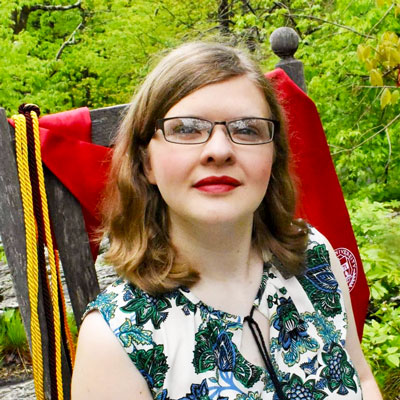 Megan Ferguson
Children and Youth Services Coordinator